The Wabanaki people's reverence for their lands and their spiritual connection to the earth are embedded in this music.
In 2014, the first year of filming on the barrens, the production team met Hubert Francis, an international singer and artist. He had recently been presented with the Helen Creighton Award at the East Coast Music Awards, an award that recognizes individuals who have had a profound and lasting effect on the Atlantic Canadian Music Industry. Later that year, the crew experienced the Passamaquoddy Indian Days Celebration at Sipayik, Pleasant Point, Maine. Film sound designer, Vicky Mejia-Yepes, recorded songs, chants, and drum circles at this event. We were transfixed by the rhythms, and the music drew us into deep states of reflection. 
Weaving these Wabanaki traditional songs into the film's sound design was an essential aspect of sharing their story. With help from Hubert, his brother, Canadian First Nation music producer Brian Francis, Passamaquoddy drummer Aaron Dana, and Donald Soctomah, Historic Preservation Officer for the Passamaquoddy tribe, and the musicians, Lauren Stevens and Rolfe Richter, we recorded these traditional songs, chants, and instrumental interludes. Vicky Mejia-Yepes arranged the music into the final sound design of "Voices from the Barrens."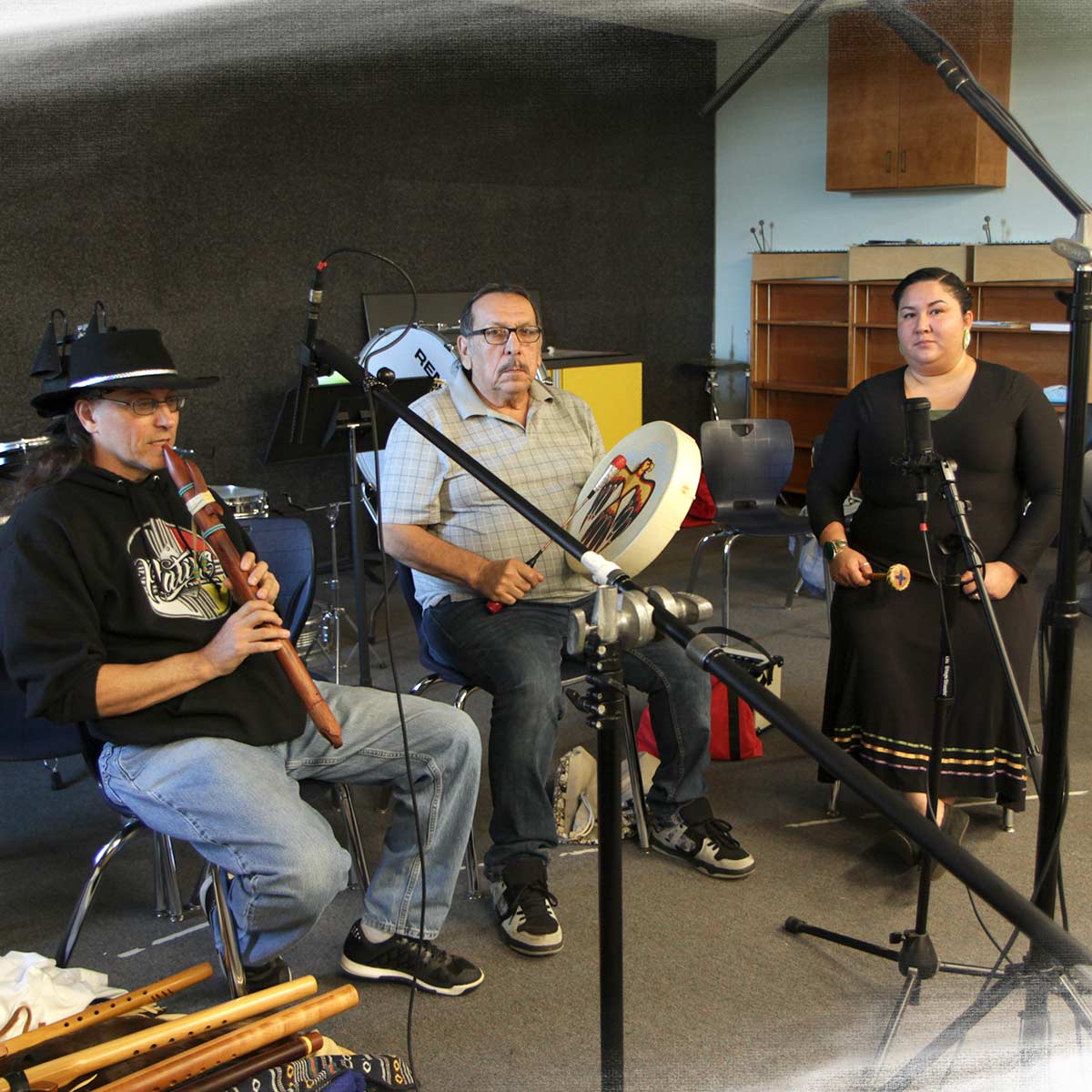 Musicians recording at Princeton Elementary School, Princeton, Maine.
We asked our Wabanaki advisors: "What is significant about the music?"
"This music is rooted in centuries of life within a culture that has lived in peaceful harmony with all that is created. In particular the 'Honor Song' which is part of the film's opening tableau chants: 'Come back together, to honor who we are, the Indigenous people we are.' It honors where our roots stem from, the Earth. It gives thanks to the Creator. The song brings about respect, dignity and deep knowledge of identity for the people."
Performers / musicians:
Hubert Francis – voice, guitar, and hand drum
Lauren Stevens – voice, hand drum, and rattles
Rolfe Richter – flutes